Biolase ezlase®
Ezlase® is an advanced laser technology developed by Biolase Technology, the leader in dental lasers for over 20 years. The ezlase® creates highly concentrated light energy to treat gum and other soft tissue in the mouth safely and comfortably.
Procedures performed using soft tissue dental lasers may not require sutures (stitches).
Certain laser dentistry procedures do not require anesthesia.
Laser dentistry minimizes bleeding and swelling during soft tissue treatments.
Bacterial infections are minimized because the high-energy beam sterilizes the area being worked on.
Damage to surrounding tissue is minimized.
Wounds heal faster and tissues can be regenerated.
Laser Dentistry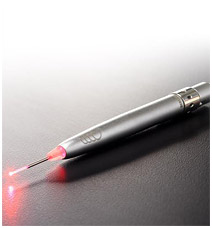 Lasers have been used in dentistry since 1994 to treat a number of dental problems.
The application of lasers in dentistry opens the door for dentists to perform a wide variety of dental procedures they otherwise may not be capable of performing.
If you consider yourself somewhat of an anxious dental patient and are seeking extreme safety and comfort, you may want to consider looking into laser dentistry.
Dr Boschken has been trained by several laser institutes, and is able to incorporate laser dentistry techniques into some of his practices and treatments.